The Mental Wellness Counseling "Meet the Counselors" series offers a deeper look into each counselor's background, experiences, motivations, values, and philosophies. In this series, I put counselors on the couch to learn why and how they do what they do.
Passion for Psychology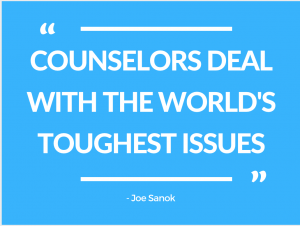 When adults asked young Joe Sanok what he wanted to be when he grew up, he would confidently shoot back: a psychologist. "I've always been motivated to help people, and understand the art and science of counseling," he said. Sanok would eventually grow up to live his dream job, although it wasn't always what he anticipated. "The first client who tore me apart was a young girl whose mom would prostitute her out to men," he said. "She had gone through horrific things and was set up for failure. Sitting with this girl whose development was in my hands made the profession real. That's when I realized the gravity of what I was doing." Rather than deterring him, hearing clients' tragedies revealed the value of therapy to Sanok, and inspired him to embrace the counseling field. "The work we do is really important," he says. "We're dealing with the world's toughest issues—the things that nobody else knows how to deal with."
Mental Wellness Counseling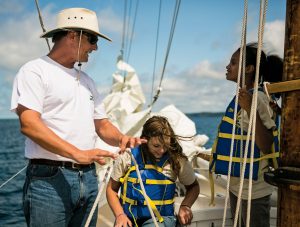 After working at Child and Family Services, Northwestern Michigan College, and starting two youth experiential education programs—the Muster Project and SAIL Champion Program—Sanok founded his own counseling private practice in 2006. Kick starting his own practice was not easy, as Sanok realized that his graduate training failed to cover basic business/marketing skills. "If you own a private practice, you need business skills to be successful," he said. "For years I worked a forty-hour job. Then on the weekends, I'd blog and do podcasts while my daughters napped."
Despite the "years of hustle" it took to develop his two businesses, today Sanok appreciates learning it the hard way. Having started from scratch and emerging successful, he can now instruct other aspiring counselors and entrepreneurs the best way to achieve their business goals. "I didn't just jump into private practice. I made a profit from day one because of how I structured it," he said. "One of the biggest takeaways I've had from running Practice of the Practice and Mental Wellness Counseling is focusing on the clientele I want to attract, creating products for them, and engaging them in that process, rather than just creating products and hoping people will buy them."
Practice of the Practice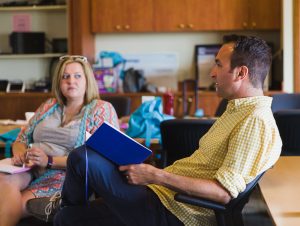 In a typical week, Sanok may be found around Traverse City doing counseling, podcast interviews, writing blog posts, creating webinars, and consulting with private practice owners. He says the key to running a successful private practice is a sense of discovery, "because the things that work right now aren't going to work in a year. Who knows what the next Facebook will be? If you're not constantly learning what works in the business world, you won't stay at the forefront."
Sanok's journey into the business/technology world revealed an abundance of professional tools and career knowledge—strategies he shares with other counselors on Practice of Practice. "When I went for my Master's degree, I thought there was little scope of what I could do in the psychology field," Sanok said, "but as an entrepreneur, I've realized that there's a whole world of things out there."
Improving Lives
Regardless of his next business move, Sanok's ultimate mission since the second grade has not changed: to help people, and enable other counselors to do the same. He is doing just that through Practice of the Practice, where he helps thousands of counselors improve their practices and lifestyles; and at Mental Wellness Counseling, where he sees transformations from "angry kids who are now headed to college, couples on the brink of divorce who are still together, and families who have better relationships with one another." "Every day people who have never met me walk in and dump their issues on my couch," Sanok said, "and hopefully every day there's people who leave and feel that there's more hope in their life."
Click here to learn more about Joe or to schedule an appointment.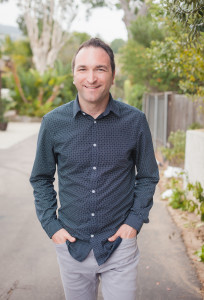 Want to schedule an intake? Click here.
Want to grow your private practice? Click here.