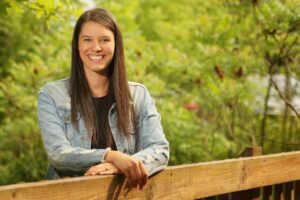 Dani is a Mental Health Therapist that believes that each person faces challenges and situations that aren't meant to be handled alone. Through a meaningful therapeutic relationship, Dani feels that these challenges can be tackled in a positive way together and individuals can learn tools and skills necessary to move forward.
Dani graduated with her Masters in Clinical Mental Health Counseling from Regis University in Denver, Colorado and then relocated to Traverse City shortly after. Dani also holds a Masters Degree in College Student Affairs from Eastern Illinois University. Dani works with older teens, young adults, and adults who are struggling with mood and anxiety disorders, life transitions, stress management, LGBTQIA+ Community, trauma/PTSD, and substance use disorders.
Dani's primary approach to counseling is a use of techniques and strategies from Person-Centered Therapy, Dialectical Behavior Therapy (DBT), and Acceptance and Commitment Therapy (ACT). Through these lenses, Dani believes we are able to explore the individual from a holistic viewpoint. Dani believes that the client is an expert in their own life and that she is there to guide and facilitate conversation to further develop a sense of self.